From Gatwick Airport: Take the Gatwick Express train to Victoria Station, from there you can take a taxi (approx. £10) or public transport.

By underground: Take the Circle Line (yellow line) towards High Street Kensington. Get off at Bayswater underground station (journey time approx. 15 – 20 minutes). Then walk to our office (approx. 10 minutes)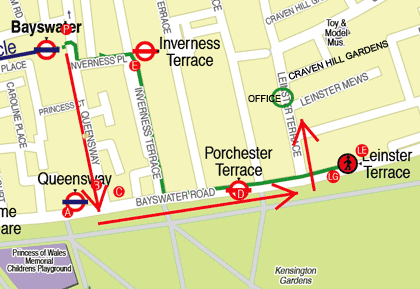 By bus: Take the Route Bus 148 from Stop: G towards White City Bus Station. Get off at bus stop Leinster Terrace. Make sure you buy a ticket before you board.

Take the Heathrow Express train to Paddington Station (approx 15 mins). From Paddington Station you can either walk or take a taxi (approx. £5)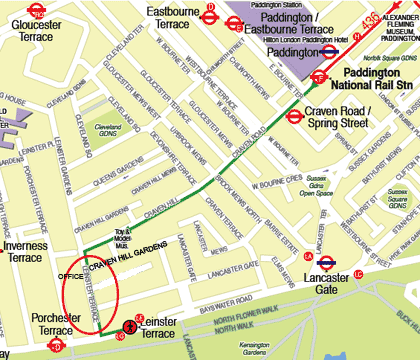 Take the Train to (King's Cross) London St.Pancras Railway Station. From there take a taxi for (approx. £10) or public transport.

By underground: King's Cross St.Pancras Underground Station
Take the Circle Line (yellow line) towards Baker Street. Get off at Bayswater or Paddington underground station (journey time approx. 15 – 20 minutes). Then walk to our office (approx. 10 minutes)

By bus: Take the Route Bus 390 from Stop: R towards Notting Hill Gate
Get off at bus stop Leinster Terrace. Make sure you buy a ticket before you board.

The Eurostar Train from Paris or Brussels will arrive at (King's Cross) London St.Pancras Railway Station. From there take a taxi for (approx. £10) or public transport.

By underground: King's Cross St.Pancras Underground Station
Take the Circle Line (yellow line) towards Baker Street. Get off at Bayswater or Paddington underground station (journey time approx. 15 – 20 minutes). Then walk to our office (approx. 10 minutes)

By bus: Take the Route Bus 390 from Stop: R towards Notting Hill Gate
Get off at bus stop Leinster Terrace. Make sure you buy a ticket before you board.

London City Airport DLR Station
Take the Docklands Light Railway towards Bank. Change at Bank onto the Central Line (red Line) Westbound towards Northolt / Ealing /White City. Get off at Lancaster Gate or Queensway underground station. Then walk to our office (approx. 10 minutes)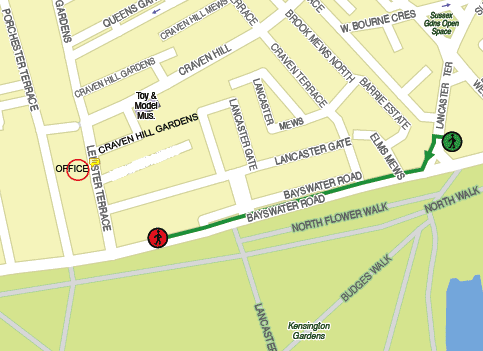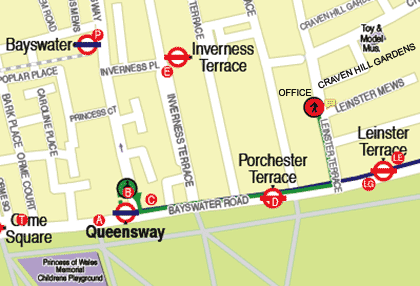 Take the Stansted Express train to Liverpool Street Station, from there you can either take the underground or a Taxi (approx £18).

By underground: Take the Central Line (red line) Westbound towards Northolt / Ealing /White City. Get off at Lancaster Gate or Queensway underground station. (journey time approx. 15 – 20 minutes) Then walk to our office (approx. 10 minutes)
We can arrange a taxi to pick you up from any airport or train station. Taxi prices upon request.
Please note that Check-In is at our office:
Lero Properties 24 Leinster Terrace, London W2 3ET
Our office hours are Monday to Saturday 10.00 am to 6.00 pm
We do run a check-in service outside of our office hours for early, late or Sunday check-ins. Please contact us to arrange this check-in service if you will arrive outside of our office hours.
Tel. (+44) (0)20 7402 7768, Fax. (+44) (0)20-7262 7179.
© 2006 NAVTEQ/PTV AG/Map&Guide (for all maps in how to get to us section)